We have completed a number of repairs and setups. Some repairs were minor; broken strap pin, nut replacements. While others were a bit more involved; converting a right hand acoustic to a left hand, fixing a fractured neck.




We acquired a gutted late 80s bullet stratocaster and used it as a lesson – how to wire and setup from scratch.This was also a lesson on setting up and using a Floyd Rose tremolo saddle and nut.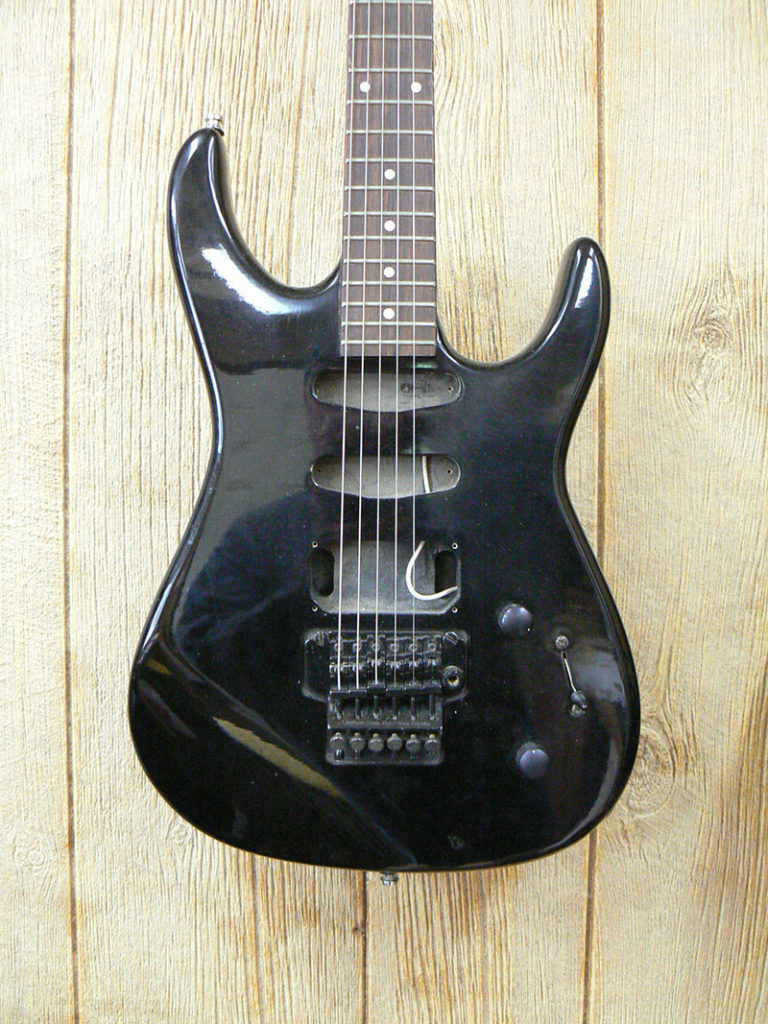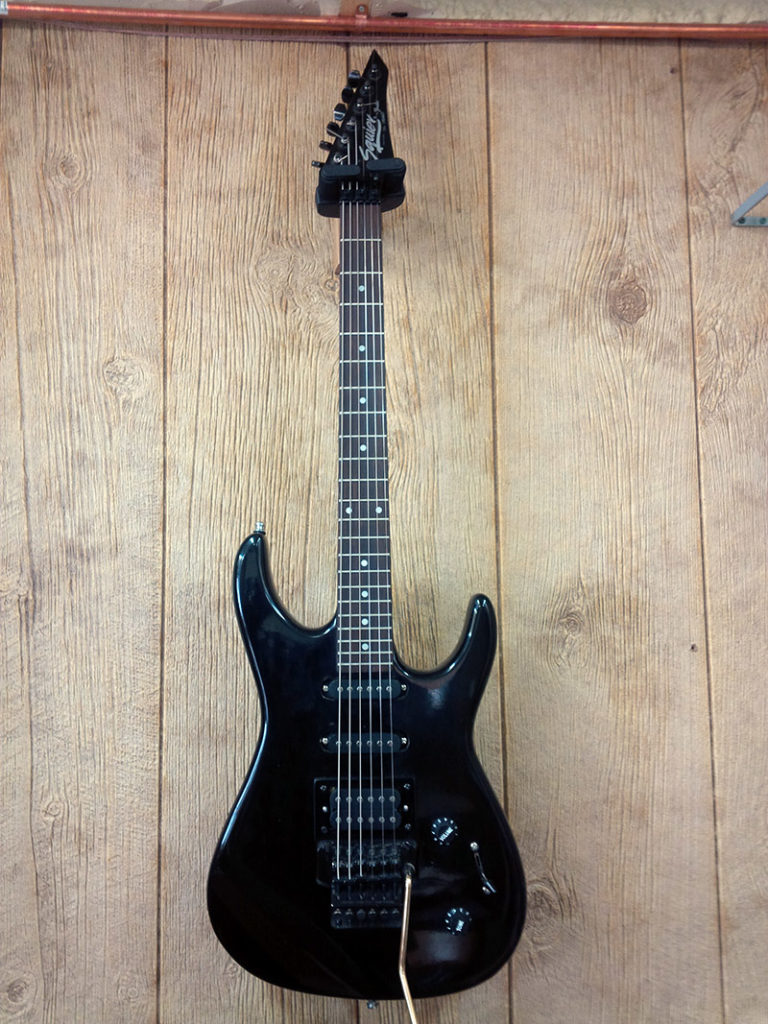 This was NOT a restoration, but a challenge to take (literally) a box of wood that was once a late 40's Czech standup bass that had been stored on an outdoor shelf for over 20 years, and try to make it playable.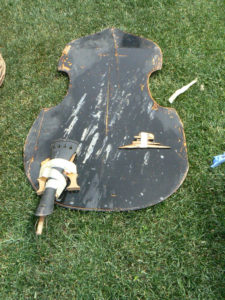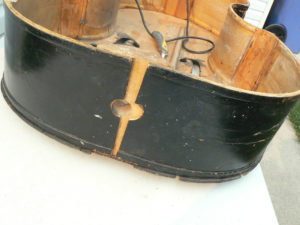 The owner's attitude was great, although this a sentimental project he likened it to working on a Yugo. "You could put a lot of work into a Yugo and still only have a Yugo, however you could put some work into it and have a car that drives." The result was a pretty good Yugo, it not only played but played well. Here is the owner playing his bass.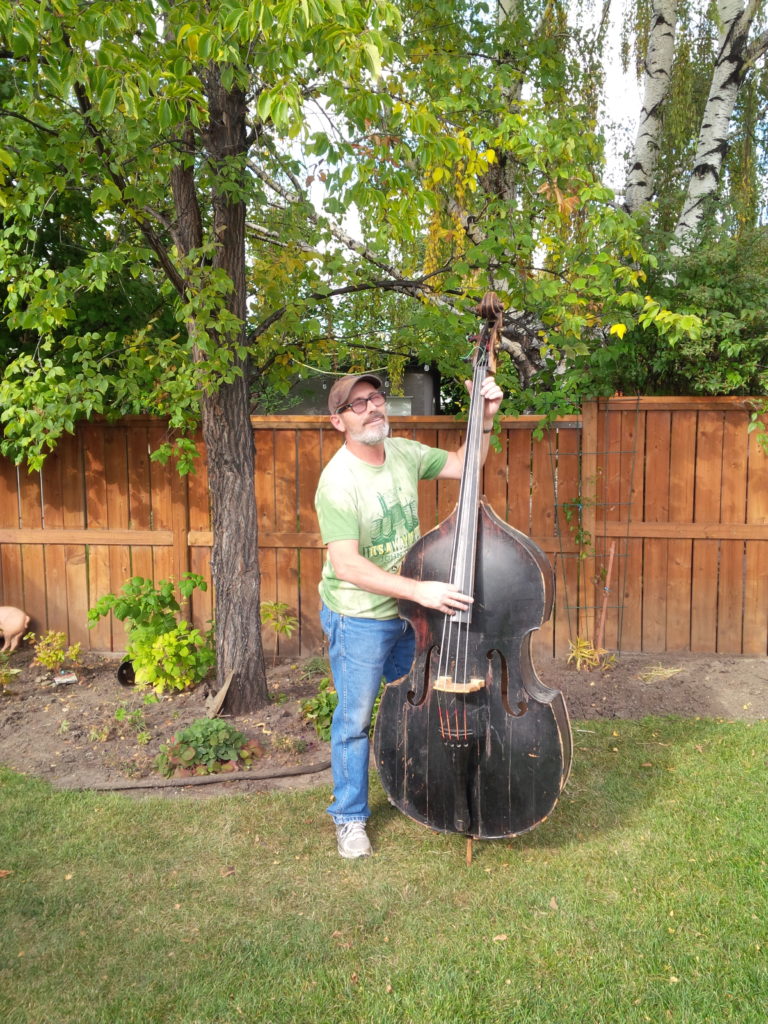 See more pictures of this repair
1959 Gibson LG3
This little guitar (LG) had a cracked front, broken bridge, cracked and loose brace, worn finger board, seized tuners and more. We are pretty happy with the result.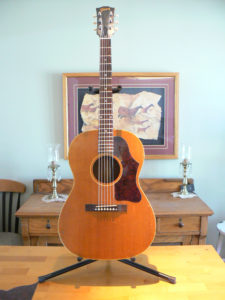 See more pictures of this repair
1958 Harmony H950 Monterey Archtop
Well played but coming apart. The glue had deteriorated and was losing its hold, the back had significant separation and the top wasn't far behind. The back was removed and the top was repaired from the inside, then the back was re-attached and the binding installed. Finger board shaped and new frets.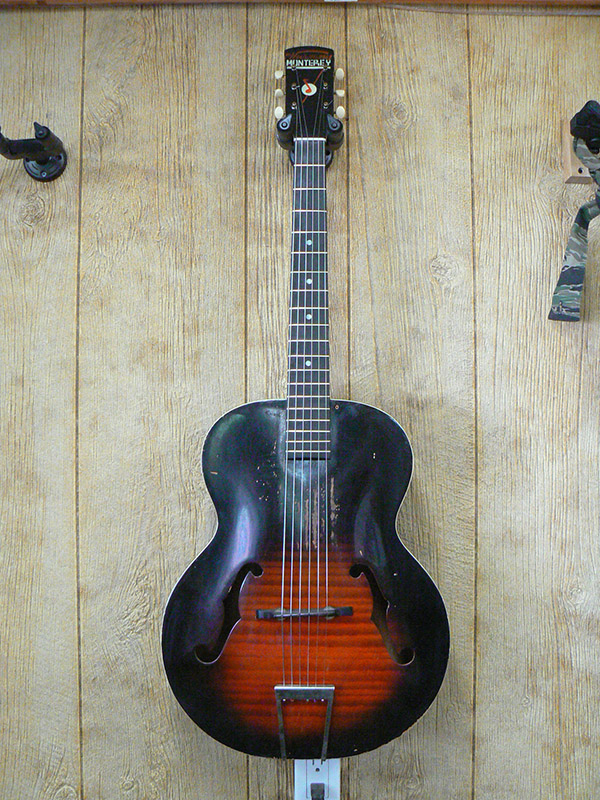 See More Pictures Of This Repair
1990 Larrivee L-25 12 string guitar
A near life ending accident, a heavy trophy from a top shelf landed on this guitar while it was on the floor on its side and split it from neck to end block. Much of the split was along the top edge of the kerfing so a custom, reverse kerf was made and installed, the idea was to attach the flat part of the kerfing to the guitar side and have the beveled part 'climb' the original kerf to create a mechanical support. The soundboard had shrunk leaving a slit down the centre seam that could not be closed so I inserted a single grain of spruce and cleated the crack inside.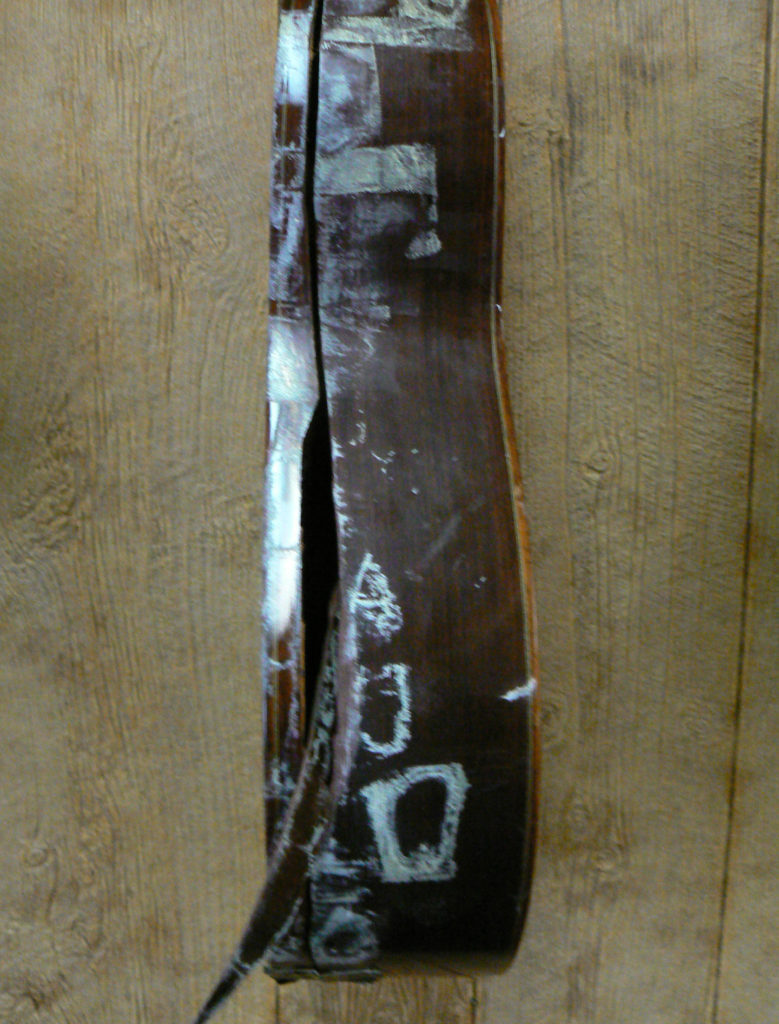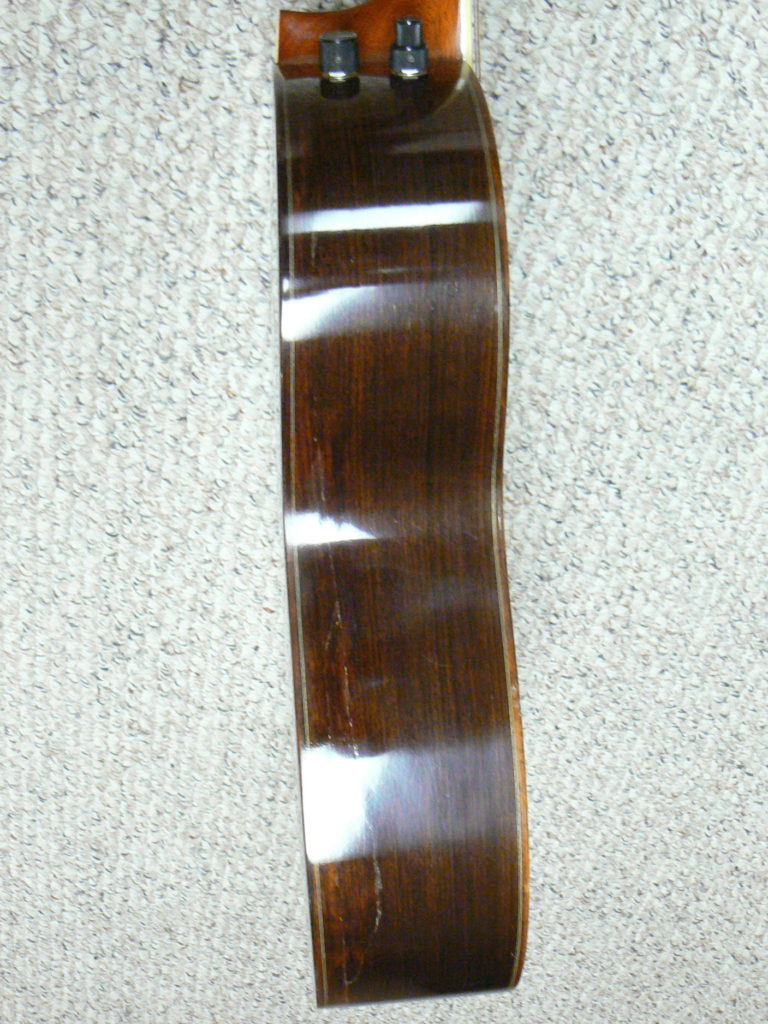 See more pictures of this repair
Plywood Hawaiian
This is the guitar my dad and his brothers all learned to play on growing up in rural Manitoba. It's a very cheap plywood guitar that they were playing 80+ years ago and who knows if it was new then. It was in poor condition, mildew inside, neck separating from the body and the top so dished that if you plugged the sound hole you could eat soup off it. The Hawaiian paint job is tacky enough to be great.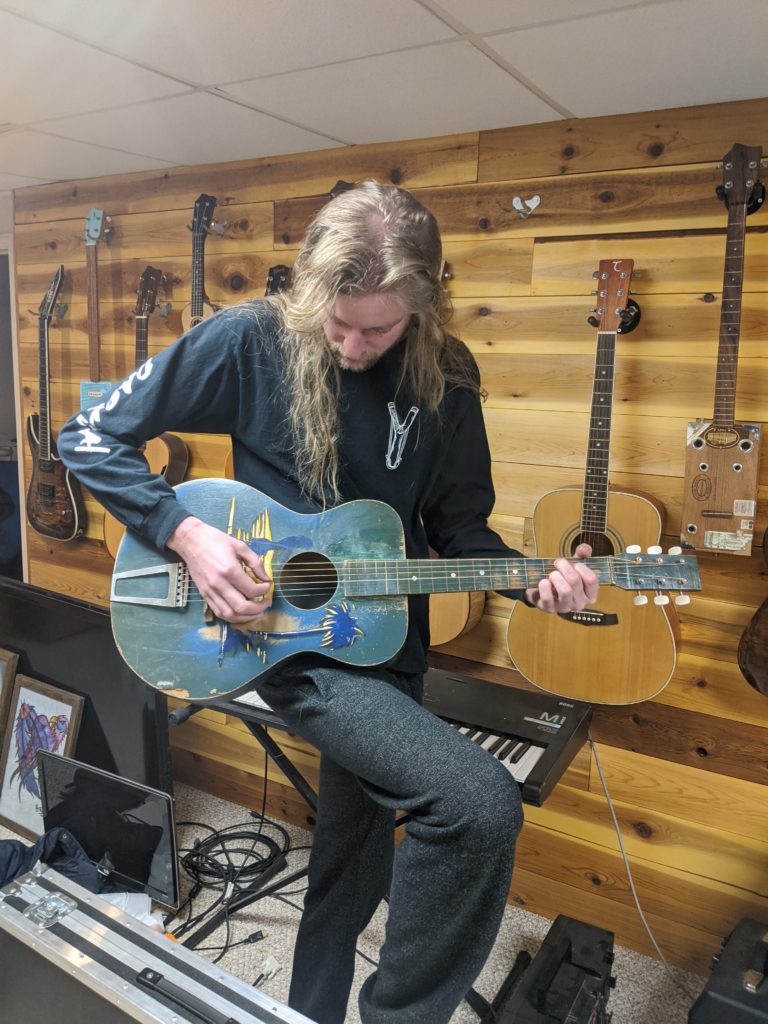 See More Pictures of this Guitar
Muskets
This was a bit of a departure from my regular projects. I was asked to do some wood repairs on two 1840 muskets. One is an Irish Constabulary issue that had a chunk broken off at the end of the stock, and the other is an India Palace issue that required 5 different grafts, three along the top and two where the wood had deteriorated at the barrel pins. Before starting I had to research the finish used and it turns out muskets from that era were coated or dipped in a thick rendered linseed oil activated with lead powder, obviously no longer available. I did all the wood grafts, colour matched them by alternating very thin aniline dies, burnt sienna then black, and then started layering them with a linseed varnish product until the finish was as thick as the original. It took over three months but most of that was watching oil dry.